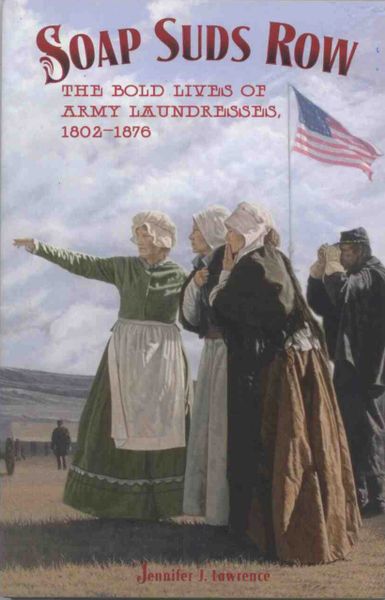 Soap Suds Row
Women of many ethnic origins worked to launder, mend and cook for soldiers.  Laundresses who were attached to frontier outposts were some of the first white and African-American women to see the great American west.  These laundresses were, like many of their male counterparts in the American west, risk-takers, non-conformists, some of whom had a storied past.
The United States Army brass usually considered the women an asset, since they boosted morale among the soldiers, in addition to the laundry services they provided.  The author dispels the widely held myth that all laundresses were also prostitutes, while acknowledging that some in fact were.
Many of the women were married to soldiers, and, together with their children, lived where the husband was stationed.  Oftentimes the women earned more money than their soldier husbands.
Jennifer Lawrence provides biographical details about specific women, meticulously researched and including photographs where possible.  She treats her subjects with respect, and includes information about their daily lives and the implements used in their work, including soap-making, wash tubs, washboards, irons and the like.