Portraits of Fort Phil Kearny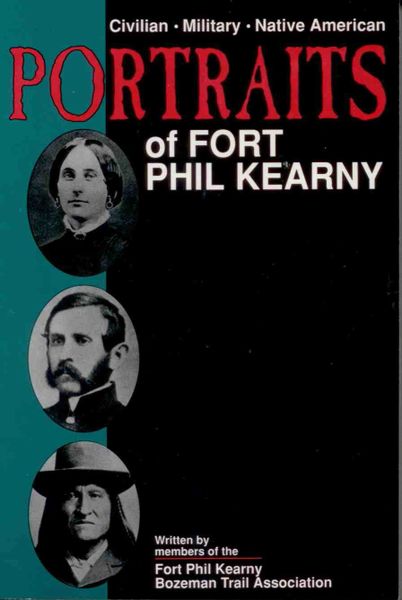 Portraits of Fort Phil Kearny
Written by members of the Fort Phil Kearny/Bozeman Trail Association, Portraits of Fort Phil Kearny provides a window into the people who lived and worked at the fort. A compilation of individual biography, Portraits shares a well rounded view of life at the Fort and its meaning on the plains.
From the back cover:
"Portraits of Fort Phil Kearny contains the biographical sketches of a broad representation of individuals who were involved in that dramatic conflict between Euro-Americans and Native Americans centered at and near For Phil Kearny, Dakota Territory, in 1866-1868.
These are the personal stories of men, women and children: Indians peoples fighting to retain their last hunting grounds; miners and emigrant families lured by visions of wealth, traveling the Bozeman Trail to the gold fields of Montana; of soldiers ordered to establish forts and protect travelers along the Trail; of civilian contractors, traders, frontiersmen, guides and many others who came to the area by the dozens, attracted by the prospects of employment and adventure.
Brave women and men, both Indian and White, shared the hardships, fear and loss caused by warfare and life in the harsh environment. Several famous Indian Chiefs were part of the story, as was a young Lakota (Sioux) warrior, Crazy Horse. Opposing the Indians were soldiers under the command of Col. Henry B. Carrington, including his ill-fated subordinate, William Judd Fetterman. Here, too, at Fort Phil Kearny, the long path of one of the first and most famous mountainmen, Jim Bridger, crossed that of Nelson Story, young leader of the first cattle drive through the region.
The people and events of those brief years near Fort Phil Kearny were a microcosm of the conflicts of that time and place, as illustrated in this unique collection. Those responsible for the book are as diverse as the stories being told. The biographies are written from varied points of view of over thirty authors and consultants: men and women, White and Indian. They bring together their own wealth of experience to their writing, and in so doing add a unique perspective to the history of this era and the West from that time to now."